Australia Women Secure Series with a 47-Run Triumph | 3rd T20I vs West Indies Women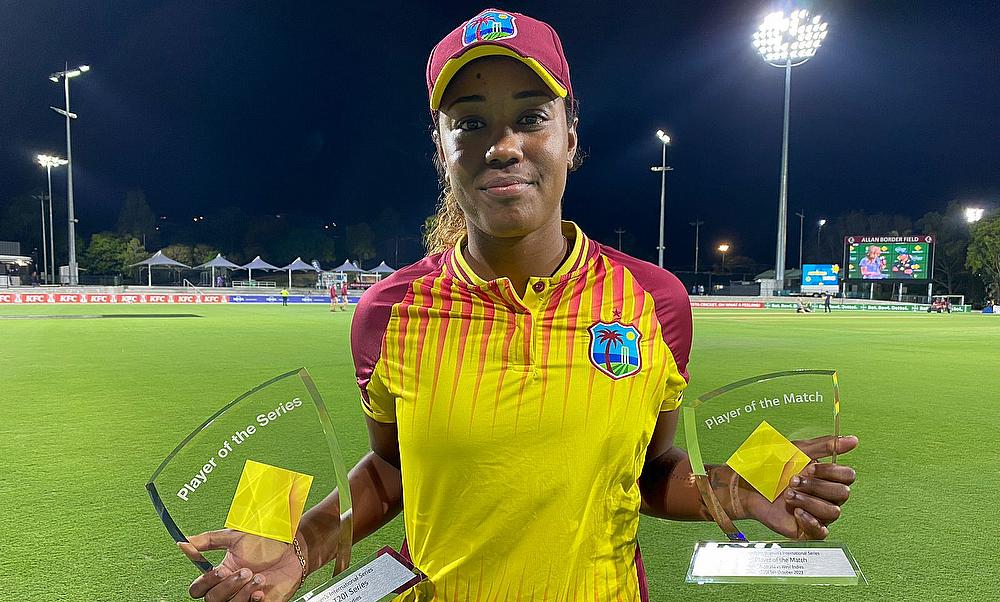 Hayley Matthews Player of the match and Player of the series
©CWI
In a riveting display of T20 cricket, Australia's women emerged triumphant in the 3rd T20 international against the West Indies, clinching the series 2-1 with a commendable 47-run win.
Match Summary
Australia Women vs West Indies Women, 3rd T20I
Australia Women 190/9 (20 ov)
West Indies Women 143/10 (19.5 ov)
Australia Women won by 47 runs.
The star of the show was, undeniably, Hayley Matthews. Matthews continued her scintillating form, bagging her record 8th consecutive player of the match title and ultimately being named the player of the series. Displaying her batting prowess, she played a blistering innings, smashing 79 off just 40 balls. Her all-around capabilities were evident as she also contributed with the ball, taking a crucial wicket while conceding 34 runs in her 4-over spell.
Sent into bat first, Tahlia McGrath led the scoring for Australia with a brisk 34-ball 65 which included 11 fours and two sixes. Ellyse Perry added 40 from 30 as Australia posted 190/9 in their 20 overs. Shamilia Connell was the pick of the West Indies bowlers with figures of 3-0-25-3. Matthews continued her blistering form with the bat, smashing a 40-ball 79, which included eleven fours and four sixes. Aaliyah added 26 as the West Indies Women finished on 143 all out in 19.5 overs.
Over the course of the series, Matthews accumulated a staggering total of 310 runs, alongside picking up 5 wickets, setting a new benchmark in women's T20 cricket. With this feat, she etched her name into the record books by becoming the first woman to score 300+ runs across three consecutive innings. Moreover, Matthews reached another milestone as she became the second youngest woman to amass 2000 T20I runs, further establishing her place among the cricketing elite.
Speaking at the post-match press conference Matthews said "I knew we had a shot and that's what I was gunning for. I was trying to be aggressive but unfortunately Darcie Brown outsmarted be with a slower delivery and nothing went to plan after that."
Despite the loss, the West Indies team exhibited moments of brilliance and will surely use this series as a learning experience for future encounters. with Matthews' record-breaking feats being the cherry on top.
The focus will now shift focus to the longer format of fifty-overs cricket. The first ODI will bowl off on Sunday October 9 at 9:35am.
Match Stats
Australia Women Fall of wickets: 1-13 (Beth Mooney - 1.6 ov), 2-31 (Alyssa Healy - 4.1 ov), 3-111 (Tahlia McGrath - 11.4 ov), 4-121 (Ashleigh Gardner - 13.3 ov), 5-129 (Ellyse Perry - 14.2 ov), 6-178 (Annabel Sutherland - 18.3 ov), 7-182 (Georgia Wareham - 18.4 ov), 8-190 (Phoebe Litchfield - 19.5 ov), 9-190 (Megan Schutt - 19.6 ov)
West Indies Fall of wickets: 1-97 (Hayley Matthews - 10.4 ov), 2-98 (Stafanie Taylor - 11.1 ov), 3-99 (Shabika Gajnabi - 11.5 ov), 4-103 (Chinelle Henry - 12.1 ov), 5-104 (Shemaine Campbelle - 12.4 ov), 6-122 (Afy Fletcher - 16.1 ov), 7-124 (Rashada Williams - 16.5 ov), 8-125 (Zaida James - 17.2 ov), 9-126 (Karishma Ramharack - 17.4 ov), 10-143 (Aaliyah Alleyne - 19.5 ov)
Playing XI
AUSTRALIA WOMEN - Alyssa Healy(WK/C), Beth Mooney, Tahlia McGrath, Ashleigh Gardner, Ellyse Perry, Phoebe Litchfield, Annabel Sutherland, Georgia Wareham, Kim Garth, Megan Schutt, Darcie Brown
WEST INDIES WOMEN - Rashada Williams(WK), Shemaine Campbelle, Stafanie Taylor, Shabika Gajnabi, Hayley Matthews(C), Aaliyah Alleyne, Chinelle Henry, Zaida James, Afy Fletcher, Shamilia Connell, Karishma Ramharack


Match Details
Date - 2023-10-05 08:05:00
Venue - Allan Border Field, Brisbane
Toss - West Indies Women elected to bowl
Umpires - Claire Polosak(Australia), Eloise Sheridan(Australia), Ben Treloar(Australia TV)
© CricDirect 2023